'Historic' Louisiana Flooding: 3 Dead, More Than 1,000 Rescued
2016-08-14 22:51:40
'Historic' Louisiana Flooding: 3 Dead, More Than 1,000 Rescued.

At least three people have died and over a thousand have been rescued from severe flooding across central and southern Louisiana that has led the governor to declare a state of emergency, officials said.
An elderly man drowned after slipping and falling in high waters amid heavy rain in East Baton Rouge Parish. And in St. Helena Parish, a man died when his pickup truck was swept off a flooded highway and submerged underwater, Louisiana Gov. John Bel Edwards said at a news conference today. A woman was also recovered from the Tickfaw River earlier today, according to Michael Martin, chief of operations for the St. Helena Sheriff's Office.
Edwards called the floods "unprecedented" and "historic," according to The Associated Press, which also noted that the governor and his family were forced to leave the governor's mansion when chest-high water filled the basement and electricity was shut off.
Crews are working to rescue another person, though they expect this person may have also died in the disaster, according to St. Helena Parish Sheriff's Office chief of operations Michael Martin.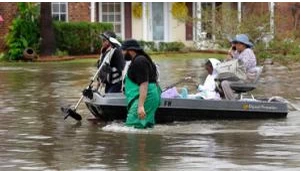 14-08-2014